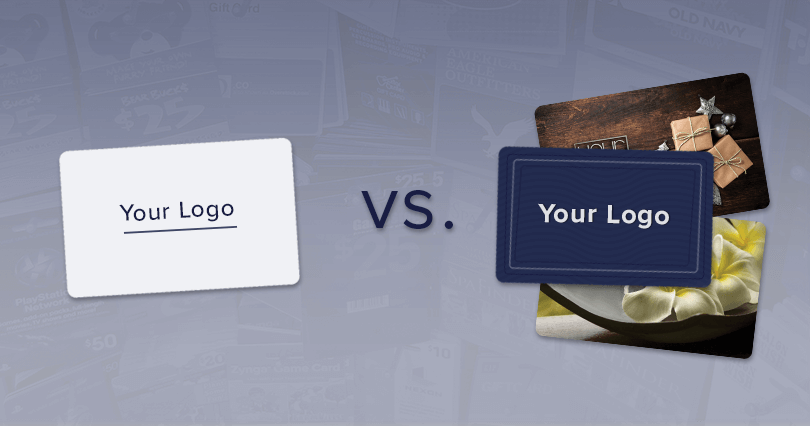 Common Gift Card Design Mistakes & How to Fix Them
Jan 26, 2018
Making a mistake when designing your plastic gift cards can completely wipe out any benefits they bring to your bottom line. Since gift cards are one of the best ways to boost revenue all year long, you can't take any chances when designing them. Attentive gift card design is just one element that can either inspire your customers to purchase them or avoid even noticing them on the sales counter.
Profitable gift card sales result from attractive, easy-to-understand, straightforward and legal design. Your customers love giving great-looking plastic gift cards and will often treat themselves to one, too. Offering reloadable gift cards is even better!
No one wants to give—or receive a cluttered or ugly gift card or carry it around in their wallet. But, when you offer a variety of attractive designs, customers will often buy more than one card, simply because they cannot choose from among the most attractive ones.
Bad Design Is Main Reason Most Gift Card Programs Underperform
Too much information or an ugly design can be a big turn off. If a customer has to decipher the terms or the design makes a customer's head spin, trash the card and start over. Keep the cards simple, straightforward, contemporary and clean.
Use our Plastic Resource professional design team to design your cards. Understand your market and your customers so that your design appeals to them. For example, don't try to sell a card to customers at a natural foods, or vegetarian, grocery store showing a hunting lodge in winter, complete with a mounted deer head over the fireplace mantle. Not only will customers not buy, they will be offended. Instead, for these customers, a photo of the same deer, alive and running free through the snowy woods would be a more palatable and attractive card design.
Also, if there is too much information on the gift card, customers won't read it and will be frustrated if the terms of redemption are a surprise. Keep writing and text to the bare minimum to comply with various state laws and leave the explanations and extended greetings to the card envelope.
Cards With Outdated Designs Make Your Business Look Stale
Outdated designs make you look like you don't care about keeping things current or remaining fresh for your audience. Preserve your forward-thinking and innovative image by updating your card designs on a regular basis.
For instance, rotate your holiday and occasion card designs every few months so that for each holiday, they are fresh and new. How boring and thoughtless would it appear to give the same gift card for two birthdays or anniversaries in a row?
Single-Design Cards Blend Into the Woodwork After Awhile
If you only offer one design, such as one that only uses your store logo, customers get used to them and no longer notice them. Plastic gift card sales will begin to lag.
Offer a variety of cards with birthday, anniversary, new baby, wedding or graduation themes. During holiday seasons, offer a variety of holiday-themed cards.
For spring holidays, include Easter, Passover, bunnies, lambs, candles, religious, secular and spring designs that include attractive colors and positive thoughts.
For winter holidays, cover religious and secular celebrations for a range of ages and backgrounds.
Remember this: The more inclusive your designs, the more you will sell. Everyone wants to have a card that reflects their personality or the recipient's personality. If a customer can't find an appropriate match, the customer will forgo a purchase rather than buy a design that does not reflect his or her true sentiments.
Go a Step Above—Understand How Your Cards Perform
Track which designs are the most popular, which command the most money and how quickly customers redeem them. You'll be able to get a better picture of which designs your customers prefer. Add new designs on a regular schedule or at least every 12 months. Avoid using cards with stale designs, consider nothing older than 18 months. Gift card sales are like icing on the cake if you use them the right way.
If you are making any of the mistakes above, reach out to our experienced design team at Plastic Resource. Give us a call at 833-290-5684 or you may reach us online for expert design advice and professional assistance at any time.