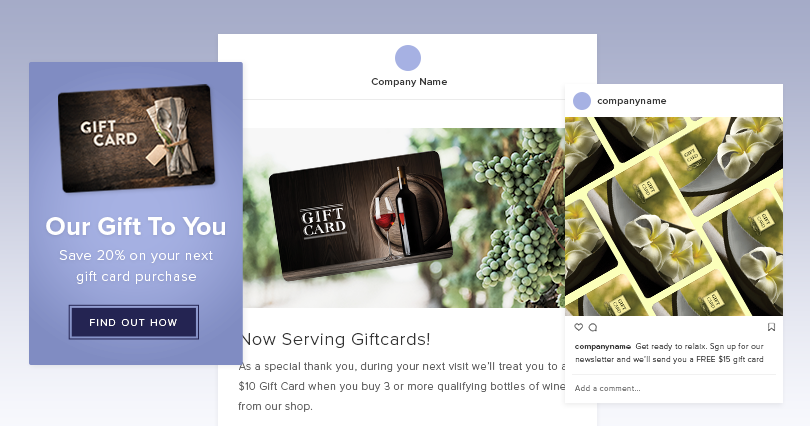 5 Tips for Marketing Your Gift Cards Online
Jul 16, 2018
Gift cards are amazing marketing and sales tools for your business. To take full advantage of them, you must promote them. The internet is the perfect place to market your gift cards, with a variety of platforms available. Trying to use them all? That is a recipe for disaster.
Out of the many tips out there for marketing your gift cards online, let's focus on five you can start using today.
#1: Use Your Website to Showcase Your Gift Cards
Your website is the hub for all things about your business. From important contact information to your products or services, your customers can learn everything they need to know at the click of their mouse. This makes it the perfect place to showcase your gift cards.
You can create a pop-up that announces your new gift cards when a visitor hops onto your page. Or, on each website page, you can promote your gift cards using a banner or link to more information. Your website is prime real estate—use it!
#2: Take Advantage of Your Social Media Platforms
As a business, you must have social media platforms to engage with your audience. Facebook, Instagram, Twitter and Pinterest are perfect places to market your gift cards in many unique ways:
Create a contest on social media where the prize is one of your gift cards.
Post a social media campaign all about your gift card and its benefits.
Add a quick video announcing your gift cards in a highly visual way.
Change your profile pictures or promotional photos to images of your gift card.
You can take it a step further by creating Facebook ads targeted towards your audience that explain your gift card options.
Just get creative! There are so many options for social media as a marketing tool.
#3: Create an Email Newsletter
Do you have an email newsletter for your business? If not, this is a great time to create one. Email newsletters are one of the best places to advertise promotions and share happenings within your business. Start your first email newsletter off right by announcing your gift card program.
If you have an email newsletter already, share a story about your gift card in the newest issue. You can also add a quick blurb about your gift card in your email signature or elsewhere in your email that provides for ongoing placement. Pro tip: Try adding a unique subject line to your email that builds anticipation about your big announcement.
#4: Start a Google AdWords Campaign
When you go searching for information online, where do you go? Most searchers will say Google is the search engine of choice. Starting a Google AdWords campaign can help boost your marketing campaign to new heights.
By bidding on certain keywords, your clickable ad can appear in Google's search results when someone enters the keyword or keywords that you chose. Since you pay for each click, this is relatively scalable to fit your unique needs and budget. As Adwords can be very effective when managed wisely, consider working with an experienced Adwords marketing agency to enhance your results.
#5: Advertise on Your Blog
If you have a blog, you can use this space to market your gift cards. To get started, write a few blog posts all about your gift cards and how your customers can get their hands on one. You can also add banners and buttons on your blog that can be linked to more information for those interested.
The best part about a blog is that the posts are easily shareable. Once you have a post ready to go, you can share it on your social media platforms, in your email newsletter and on your website. Blogs help you curate content that is easily repurposed to save time and energy.
You Have a Strategy, Now All You Need Are the Gift Cards!
If you're ready to start offering gift cards to your customers, Plastic Resource has everything you need. From personalized gift cards to key cards and more, we are sure to have a design that is perfect for your business. Give us a call today at 833-290-5684 or send us a quick message online.