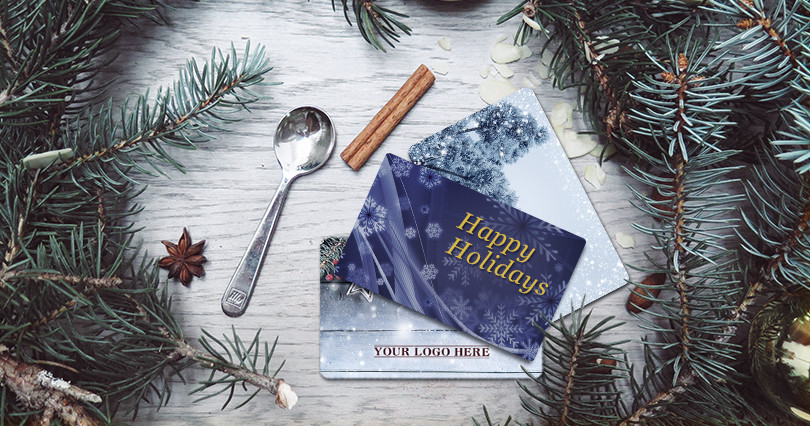 Empower Your Patrons to Share Your Business With Family and Friends During the Holiday Season.
Dec 9, 2016
Take advantage of the gift-giving nature of the holiday season and empower your customers to promote your business with gift cards. Here are some  tips on how to get the most out of your custom gift cards for the holidays.
Stand Out This Holiday Season
With holiday shopping in full swing, customers are flooded with advertisements from all over. This makes it challenging for businesses to not get lost in the holiday marketing noise. One strategy successful businesses are using is the display of eye-catching artwork for their gift card.
By using eye-catching and unique artwork for their gift card businesses are able to differentiate themselves from larger companies with well-known logos. Smaller businesses are especially finding this strategy effective as consequently their logos may not be as well recognized.
Connect With The Holidays
The holidays are about connecting with the people closest to us. Why not use this same idea when it comes to your gift card? Choosing the proper artwork for your gift card can not only help you stand out amongst the competition but also creates a connection between you and your customers.
This is seen in the artwork larger companies choose to display for their gift cards during the holiday season. For example, let's say you own an outdoors store and you're having a sale on all ski equipment for the holidays. By choosing to display a set of skis along with a Santa hat on your business's gift card, you have connected that sale and your business with the holidays. It also serves as a way to inform whoever receives that gift card of what sale you may be promoting, while also setting the holiday tone for that recipient.
Tips For Your Gift Card's Artwork:
Direct Branding - Use your company's logo as the main image to draw eye attention.
Eye-Catching Artwork - Great strategy for smaller companies with less known logos.
Tone Setting Artwork - Match your businesses tone or theme with your artwork selection.
Sale Driven Artwork -  Push certain sales through your gift card's artwork options.
Offer Related Artwork - Display sale ideas on your gift card so the person who receives it has more incentive to use it.
Not Sure About A Design?
Not all of us are a Picasso or possess great artistic skills. If your business is in need of a new gift card design, but may need a little help in designing it, look no further than our pre-designed gift cards. Browse our wide selection of pre-designed gift cards and find the exact one for your business. Don't forget to check out our pre-designed gift and holiday cards that make great gift options this holiday season. Contact or visit us today for more information!