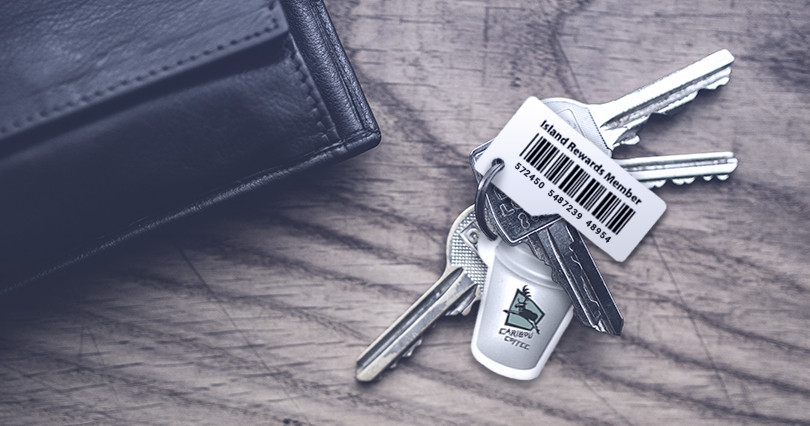 How do Barcode Key Tags Work
Sep 22, 2016
We have all seen and almost certainly have a plastic key tag on a key ring. The most common uses of key tags are for check-in (checking into your health club), loyalty (earn points at a store), and other tracking (borrowing books from a library) purposes. 
The easiest way to understand how barcode key tags can be used for so many different purposes is to not to focus on the key tag itself, but rather the "record" that is accessed by scanning the key tag. A key tag is simply a way to display a barcode which, after all, is just a number. The number references a record in database that contains all the relevant check-in, loyalty and tracking information. The record may even contain a picture of the member.
How do I go about creating and managing the records in a database? First, consider for a moment that almost anything record-related can now be accessed on a computer, tablet or mobile device if you know your record number and/or login information. As for the database itself, there are a myriad of software companies, many of which create industry-specific, that have industry-specialized databases for check-in, loyalty and tracking purposes. The databases are accessible via a computer and often times they can be integrated with your existing point-of-sale and/or business management software. A search on the internet or a conversation with an expert in your industry will get you started on finding the right database software. Or, just contact us, as we may have a suggestion.
Once you have settled on the ideal software solution, creating a new record is often times as easy as scanning the plastic key tag with a barcode scanner which will then prompt you to create a new record. Subsequent scans of the key fob will prompt the check-in, loyalty and tracking record keeping. 
One last thing: you can also display a barcode on a credit card size card or, better yet, on card that is attached to a key tag (a.k.a. combo card). Why not give your customer both a key tag for their key ring and a card for their wallet!
Plastic Resource (www.plasticresource.com) has been helping business with their plastic card and key tag design and printing needs since 1996. Our cards are all made in our Cottage Grove, Minnesota manufacturing facility and they ship in 4-9 days from proof approval. Please visit our plastic key tag page or feel free to contact us at 833-290-5684 or sales@plasticresource.com.